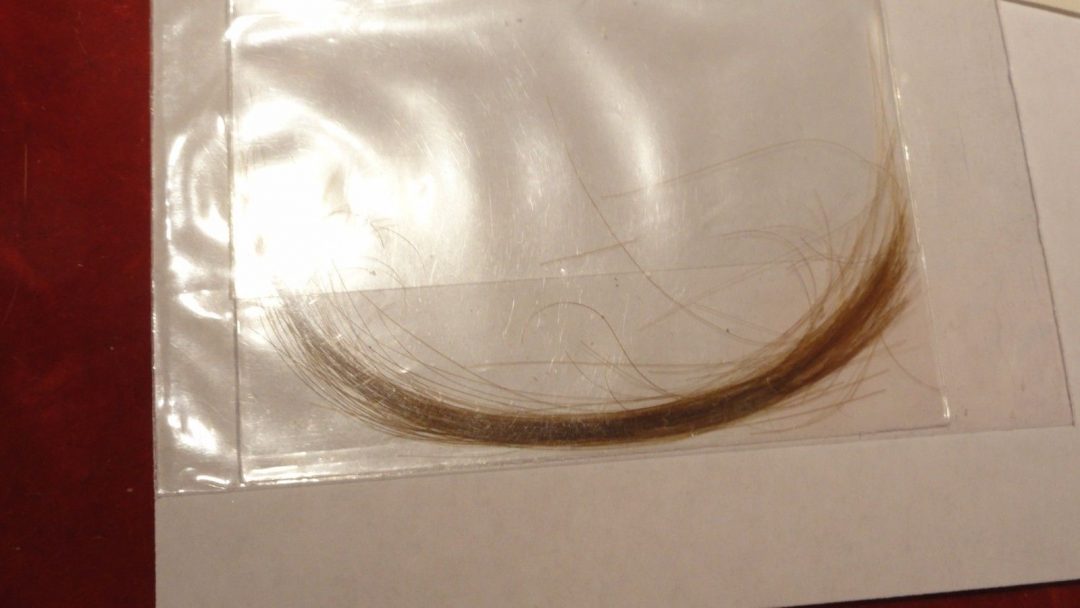 Buyer Beware. Or Not.
A seemingly remarkable item has been on sale this week on eBay that, if real, is an AMAZING collectible to those who study the Lizzie Borden case or is interested in her life or Fall River, for that matter.
A lock of Lizzie Borden's hair from when she was a teenager and a letter from her sister Emma to the collector purporting to authenticate the item. 
What could be better than this?
On first look, it is exciting to contemplate owning something that was once a part of Lizzie Borden's person. Locks of hair were especially favored keepsakes in the Victorian and Edwardian eras and it would not be unusual at all to find such an item for sale. There are people who focus their entire collecting life on the hair of the famous. It is a serious and expensive "hobby" to pursue.
This letter and hair sample is said to come from the collection of one H.H. Shigley, a person who had a diverse and detailed collection of historic objects, baseball and hockey cards and memorabilia, as well as other items. One can find only a handful of online posts in collecting forums about Shigley. In one, a person says that Shigley's grandson has been selling his grandfather's collections for years to interested parties.
None of this can be proven, however, as there is very little information about Shigley except anecdotal (many sites get his name wrong, for instance). No one has profiled this man, in any substantial and detailed manner, for us to get to know how or from whom he collected. One can find a pharmacist named H.H. Shigley in North Carolina, but the forums where he is mentioned for his baseball and hockey collections say Shigley was a professor in Michigan. Getting to know the collector would be an important part of this story.
Without knowing a great deal about Shigley, we are asked to believe that his simple one page (signed by Shigley in 1986) "certificate of authenticity" is somehow proof that the item in his collection is real. Those who collect Bordenabilia recognize this as a ruse. Just because someone says that what they have is authentic does not make it so. To prove provenance there must be a clear and understandable history of an item. A few years back, George Quigley sold a number of items that he said came from Lizzie Borden's Maplecroft or from Lizzie herself because he said so as curator to the VERY short-lived museum that then-owner Robert Dube set up in his home. His "Certificate of Authenticity" was very similar in design and description and amounted to nothing in the grand scheme of things. Anyone can assert that something is real because they say so. And many do. But to ask big bucks for an historic object or for an item owned by a famous or infamous person, one needs to substantiate ownership and prove that the item in question is really what it is purported to be.
Back to the lock of Lizzie Borden's hair.
This item has the added benefit of including a letter from Emma Borden which substantiates the item. Or does it? If this is indeed a letter from Lizzie's sister Emma, it would help to add to the veritas of the collector's assertion. Let's look at this letter and then the hair itself.
Here is the text:
Connor
Newmarket NH
Nov. 21 1926
Dear Mr. Shigley
I thoroughly enjoyed your company and will once again assure you that there is [no reason] for worry regarding the personal items I sold you. That family album was part of my inheritance and thus the contents. She has no legal recourse.
Very truly Yours
E.L.B.
We have to look at this letter in three ways. It's physical qualities, its content, and its historical validity.
PHYSICAL:
The letter is cut. It has a large portion of the left lower side removed. A note on the reverse says that there was insect damage to the paper.
The letter is on one sheet of paper, without further stains or blemishes. It is too large to fit into an envelope without being folded and there are no fold marks on the letter itself. Neither is the envelope provided.
The handwriting slopes severely down to the right and fills the page.
RED FLAGS: 
1. A cut letter is alway suspect. Any serious collector would never alter, even for insect damage, a letter that is supposed to validate the authenticity of an item. Warts and all, stains and all, a letter that claims to be proof of an item is part of the history of the item itself. A cut like this one bears only adds questions to the narrative.
2. The letter is clean and bright. If there was indeed insect damage to the left side of the paper, and it was so bad that it had to be cut away, why is the remainder of the paper not in the slightest way stained, dirty, or affected?
3. There are no folds in the paper. This paper was never inserted into an envelope and there is no envelope to show. Part of the provenance would be that envelope and the franked stamp from the location of its writer. Without that envelope, this letter could be from anywhere and anyone.
4. The handwriting is NOT Emma Borden's. We have a quite a bit of her writing to base this on, including letters and postcards she wrote in her lifetime. Even a layman would say that this letter was not physically written by Emma. Was it dictated to someone? Annie Connor, her nurse/caretaker, for instance? We cannot know. And while Emma did indeed sign her initials to some of her correspondence and books in her library, these initials do not closely resemble those known marks.
At the time this letter was written, November 1926, Emma had but a little more than six months to live. Her death certificate stated she died from nephritis (kidney failure) and advanced senility. Was she unable to write letters herself in November of 1926? We do not know. There are no other examples of her handwriting from her later years to compare this to. Nor do we have any writing samples from Annie Connor to see if, perhaps, it was she who penned this letter.
CONTENTS:
The letter says that the writer enjoyed meeting Mr. Shigley, which means the gentleman visited Emma in her home. It further states that he purchased or was sold "personal items" from her own scrapbook that she had obtained through an inheritance. The writer is assuring Shigley that she has the right to do so and that "She" has no recourse. We are to take from this that she has the right to sell Shigley her sister Lizzie's personal items because Emma owned them.
RED FLAGS:
1. There is NO direct or explicit statement in this letter that the personal items that she sold Shigley included a lock of hair. The generalized "personal items" could mean anything! This is important. If you want to say that something is real, the COA must be specific as to the item in question. This letter does not accomplish that simple purpose.
2.  The letter seems to be in reply to a question regarding the legal ownership of the items from Shigley to Emma. And yet Shigley does not include a copy of his letter to Emma to verify this. Even when I was a child and wrote to famous people asking for autographs, I saved copies of those letters to add to my final little holding. It is common practice but is not part of the provenance of this collection.
3. The letter says that "She" had no legal recourse. Who is "she"? We assume Lizzie, her sister. But the letter does not say that specifically. Could the she be someone else?
4. How does one inherit items from someone who is not dead? Lizzie was very much alive, and nine years younger, than her sister when this letter was supposed to have been written. How does Emma inherit a scrapbook, then, from Lizzie? The scrapbook could have belonged to her mother, father, step-mother, family friend, or cousin.
When Emma died, the bulk of her personal items (books, letters, photo albums) went to her cousin Orin Gardner of Swansea, MA. I have personally examined the items that were then bequeathed to the Swansea Historical Society from Orin that were given to him from Emma and there are no scrapbooks other than books of poetry copying and clips from books and magazines—favorite phrases, items of interest, and little snips of aphorisms. If Emma were not famous through her connection to the Borden family, a scrapbook such as this would have no value whatsoever as there is no personal information or articles in them.
In other words, the scrapbook that held personal items (as indicated in this letter) has never been seen again.
HISTORICAL VALIDITY:
Emma lived in Newmarket, NH. She died there as well in 1927. She lived under an assumed name so as to keep her identity private. The name she chose was Connor as this was the last name of her nurse/caretaker, Annie Connor. After leaving her sister Lizzie in 1905, Emma lived in a number of places before residing in NH: Fall River (with Reverend Buck's daughters), Providence, RI (with Preston and Mary Gardner, 211 Hope Street, and in the Minden Apartments, 121 Waterman Street), and finally Newmarket, in the home of Annie Connor.
From this letter we are to believe that after a lifetime of remaining loyal to her sister Lizzie and even moving to Newmarket, NH, and changing the name on her mailbox to Connor, that Emma Borden would sell off some of her personal items, those relating to Lizzie, to a collector who contacts her.
This is the biggest RED FLAG of them all. It is completely out of character for Emma to have done this.
So did she? Or did her caretaker Annie Connor pretend to be Emma and fraudulently sell items from Emma's personal collection and write this letter to assure Shigley that the things he purchased are real and legally free for her to sell? Since this is the ONLY such occurrence of any items being sold from anything belonging to Emma during her lifetime, we should lean on the side of not assuming anything untoward about Annie Connor. If there was more evidence that additional items made their way into collections in this fashion, it might make a case for this idea. But that is not the case, so we must take care not to accuse Ms. Connor of being the mastermind in this sale.
THE HAIR
Locks of hair were a common keepsake. To those who have studied this practice and have a great deal of experience in viewing them in scrapbooks and personal collections all say that there was a system to saving such items. A ribbon or decorative string was tied around a clumping of hair while on the head before the cutting occurred—this was done to ensure that the hair stayed together after snipping. Glue was then applied to the ribbon to keep the hair in the bundle and affixed to scrapbooks by the ribbon. If the hair was placed in a locket, it was likewise bundled with find thread. One wouldn't want the hair to fall out when opened!
This is not the case with this hair. Instead, we have some very short stands of hair in a small, clean plastic baggie. The baggie is "sealed" with three very clean (no rust) staples. There is no indentation in this hair to indicate that it was part of the traditional lock of hair.
Also, and perhaps most importantly, the hair has a red hue. Lizzie did not have red hair, although there are many false statements floating around online that she was a redhead. She was not. The color of this specimen actually works against it and can add credence to the idea that the creator of this object (be they Shigley, Connor, or someone else) was relying on myth instead of reality.
Red hair? No.
Emma selling Lizzie's stuff? No.
Emma writing this letter? No.
Lock of hair in traditional form? No.
Proof that the lock was sold to Shigley? No.
A COA from the collector as proof of the authentic of the item? NO.
Lastly, if you have a locket of Lizzie Borden's hair, why not sell it for big bucks with a reputable auction house? Why use eBay? Simple. A reputable auction house would demand more proof of authenticity and provenance and that is sorely lacking in this case.
I believe that the seller of this item believes that this item is real. It is my opinion, however, that it is not. Not even close.