Central Congregational Church Spared For Now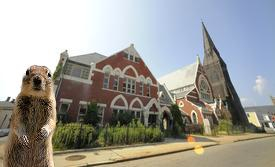 It seems that until the bank, which owns the old Central Congregational Church, can pay its back taxes in full, the wrecking ball will not be permitted to strike down the structure. This is fairly good news for those of us who love this building, and would love this building whether it had a connection to Lizzie Borden or not. Too many of the churches of Fall River are gone—by fire, demolition, human greed, or development. In recent years, there have been several such destructions, to old churches that could have been far more easily repurposed than the CCC on Rock Street. Yet, they are gone. Forever. In their place are parking lots and other less lovely spaces.
But the Central Congregational Church is extra special. It is an architectural beauty. And it hasn't been a church for many years, already being utilized as a restaurant, a wedding location, a culinary school, and a sometime music video location.
You can read all about the latest news of the old building in today's Fall River Herald News.