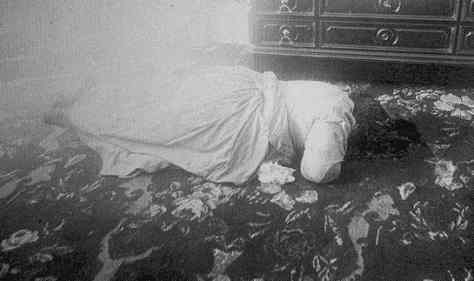 Reviewing Abby Dead Photo with New Eyes
I happened to have in my possession an 8×10 of Abby Borden in her death pose with the bed removed. She is lying horizontal to the camera. We see her with her right arm tucked underneath her shoulder, with her elbow outward, akimbo. She has one a white top of some kind. There is a ball of tissues/handkerchief(s) between her elbow and her waist area.
I have looked at this image about a million times over the years. I have used a high powered magnifying glass to glean unseen or minuscule details that may have been overlooked by others—of course, not really finding much of anything of value other than some interesting decorating issues in the room.
The rug at right hand side of the image, for instance, is obviously cut and placed as a filler strip due to the shortness of the rug, which did not go from wall to wall. I see the knickknacks on the bureau—two decorative perfume bottles (perhaps), a vase, a framed illustration on a crocheted doily, a hand mirror, three small books, a little basket (one can guess) with a lid of some sort, perhaps made of metal, another piece of artwork, flat on board of some subject.
I see the camp chair that was supposedly positioned at the head of Abby against the wall between the bureau and the bed. And the sewing machine behind the chair.
The lighting is awful. Too bright to make out blood stains or items to the left and right of the body on the wall or window. It is still a remarkable photograph. Taken around 3:30 p.m. on August 4, 1892, some six hours after Abby Borden was murdered on this spot.
But this is not a crime scene photograph as we know them to be today. It is a "recreation" of the placement of the body and the furniture, after some four or five doctors and countless police officers examined her remains. She was placed back into the position they believed her to be in when she was killed, but we have no evidence that this is exactly how she was when she was discovered by Bridget and Mrs. Churchill.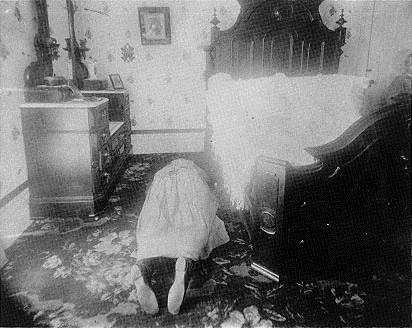 But just the other day I saw something I had never seen before. And it was so obvious, so right in my face, that I was amazed that I had never noticed it before. Now I bet you have already seen this and think me daft for not noticing it until now—I am sure many of you already figured this out. But it was new to me so I wanted to share my "discovery" with you.
I had always assumed that I was looking at Abby Borden wearing the clothing she wore at her death. That her top blouse was white but so was her skirt. The other image of her death, from the feet to the wall with the bed in place, looks that way too. Her skirts pulled down to her ankles to make the image proper and not embarrass the corpse.
But then I saw it. The white around the waist. The rolled white fabric around her waist. Ah! This is no skirt. This is the sheet that she was covered with (that Bridget was asked to get), rolled back so we can have an image of the upper portion of Abby's body—where the wounds are. It is a sheet. It is not her skirt and thus we do not know what she was actually wearing below her blouse, whether it was a print or a solid skirt. How long it was or whether it was ordinary or fancy.
It is the sheet. A simple discovery. A silly one, really. But it hit me like "eureka" and I can never unsee it.