Staying at Lizzie Borden's House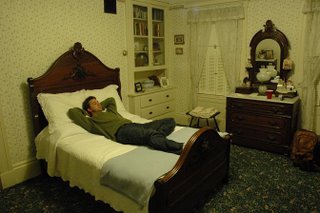 A blogger with a site named OTIS (odd things I've Seen) is penning a two part missive on his stay at the Lizzie Borden B&B. What makes this contribution to the world of Lizzie different is that OTIS is well done. While the actual identity of the writer remains a mystery (he says his name is unimportant), his ruminations on oddities are well worth the read.
Part one has been posted for your reading pleasure and I suggest you give him a gander. And while you are there, check out his other essays, including Stephen King's House, Stonehenge, and Centralia (the town that still burns in Pennsylvania). This site rankd high in the "I wish I'd thought of that" column.
Thanks to Ed Shands for the find!