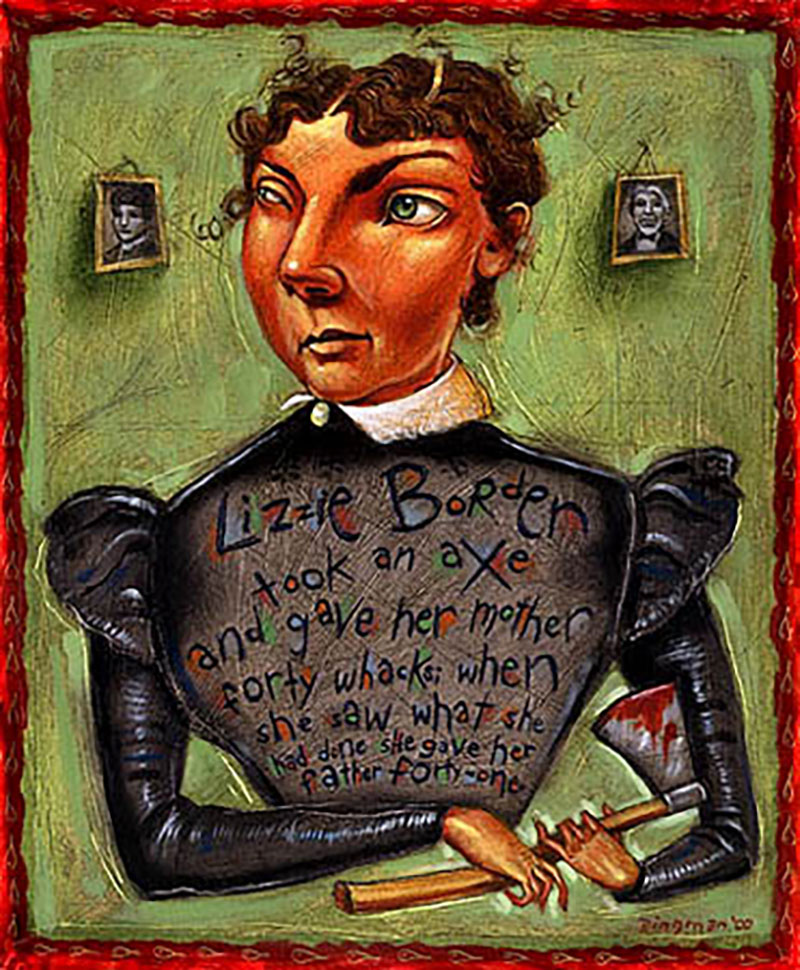 The Doggerel Discovered
You know it. You have heard it a million times. Yes, that little ditty.
Lizzie Borden took an axe
Gave her father forty whacks
When she saw what she has done
She gave her father forty-one
Lizzie Borden enthusiasts and historians have attempted to track this doggerel to its origins, with little success—until now.
Previous to this find, we have had to rely on anecdotes by descendants of Fall River residents who have regaled us with stories of their parents and grandparents (as children) reciting the rhyme in Lizzie Borden's presence. Or chanting it outside of her home in Fall River, knowing she was at home.
Borden scholar, Kat Koorey, has finally found proof positive that the poem was in fact around very soon after the time of Lizzie Borden's trial in 1893. So maybe, just maybe, as the experts and locals have been opining, Lizzie heard this at her trial through an open window. We know now for certain that she must have heard it in her lifetime.
Previous to this this discovery, the earliest mention in print of the doggerel was determined to be in Edmund Pearson's Studies in Murder, "The Borden Case," 1924.
Page 69: "An account of the case would be incomplete if it did not record the fact that, however unjustly, the event was celebrated in rhyme, in one of those jingles which are never forgotten. Who invented it, nobody knows, but everyone heard it:
Lizzie Borden took an axe
And gave her Mother forty whacks;
When she saw what she had done, –
She gave her Father forty-one!
This has been communicated to me, in one way or another, at least half a dozen times, while I have been writing this article, by persons to whom it was the most vivid recollection of the Fall River murders, – surpassing even the mutton-soup. Miss Carolyn Wells [author of A Nonsense Anthology, 1910] told me that once, when she was repeating some limericks and nonsense rhymes to President Roosevelt, on the veranda at Sagamore Hill [TR's home], he recited this, and said that of all the doggerel verse he had ever heard, it had remained most persistently in his mind."
Wells does not include the doggerel in her book but it seems that she was aware of its existence and told it to the President, who apparently found it quite memorable!
But let's get to the earliest mention in print!
While searching for Lizzie Borden in newspaper archives a number of years back, Kat Koorey found the following, published on February 15, 1894, in The News-Herald (Hillsboro, Highland Co., Ohio)!
"A Boston lady who brings her children up very carefully, and never allows them to see a newspaper, found them, on going into her nursery the other day, singing:
Lizzie Borden took an ax,
And gave her mother twenty whacks;
After seeing what she'd done,
She gave her father twenty-one."
While the rhyme is slightly different in the number of whacks, the intent and the message is the same as the one we have come to know.
The fact that this appears in an Ohio newspaper, I think, is significant. It is entirely possible that this is but one in a series of mentions in newsprint throughout the country, and perhaps an even earlier publication will surface.
February 1984 was but eight months following Lizzie Borden's acquittal for the murder of her father and step-mother. More contemporary stories told by authors claim, without citing their source, that Lizzie heard the rhyme while she was on trial for her life. And perhaps this is so. But until we have the proof of this in some published form, we can only imagine this event.