New Lizzie Borden fiction
A new work of fiction on the Lizzie Borden case will be published in August of this year, titled She What I Have Done by Sarah Schmidt, and it is getting some pre-press praise.
A recent story in The Guardian touts this debut novel as an "historical fiction highlight."
According the the book's description on Amazon.com:
In this riveting debut novel, See What I Have Done, Sarah Schmidt recasts one of the most fascinating murder cases of all time into an intimate story of a volatile household and a family devoid of love.

On the morning of August 4, 1892, Lizzie Borden calls out to her maid: Someone's killed Father. The brutal ax-murder of Andrew and Abby Borden in their home in Fall River, Massachusetts, leaves little evidence and many unanswered questions. While neighbors struggle to understand why anyone would want to harm the respected Bordens, those close to the family have a different tale to tell?of a father with an explosive temper; a spiteful stepmother; and two spinster sisters, with a bond even stronger than blood, desperate for their independence.

As the police search for clues, Emma comforts an increasingly distraught Lizzie whose memories of that morning flash in scattered fragments. Had she been in the barn or the pear arbor to escape the stifling heat of the house? When did she last speak to her stepmother? Were they really gone and would everything be better now? Shifting among the perspectives of the unreliable Lizzie, her older sister Emma, the housemaid Bridget, and the enigmatic stranger Benjamin, the events of that fateful day are slowly revealed through a high-wire feat of storytelling.
---
I enjoy a good fiction yarn on the Lizzie Borden case and the most recent works have really run the gamut of genre smashing. Just in 2016, we have Brandy Purdy's The Secrets of Lizzie Borden (Kensington, 2016):
Purdy (The Ripper's Wife) breathes life and depth into Elizabeth Borden, one of the most infamous figures in American history, with mixed results. In Fall River, Mass., in 1878, 17-year-old Lizzie lives with her father, Andrew Jackson Borden, a successful and unscrupulous businessman, and her stepmother, the kindhearted Abby Durfee Gray. Lizzie still mourns the death of her own mother, and lives in fear of her domineering, often cruel, father. The narrative reads like a diary, mainly covering the events between 1878 and 1926, including her trial after the murders of Andrew and Abby. Lizzie shares lurid details about her family life, her fantasies, and her attraction to both men and women. She often acts like a cloying, poor little rich girl, but there are glimpses of a young woman who just wants to live her life on her own terms. Readers who like their historicals spicy will enjoy this tabloid-esque treatment of the notorious Lizzie's life and crimes.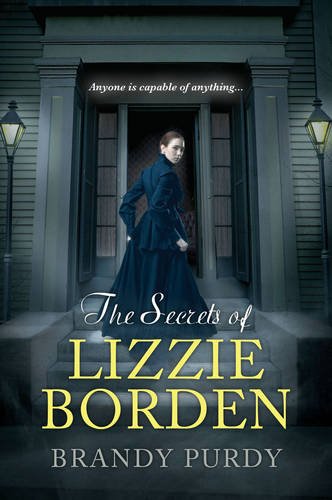 ---
Cherie Priest's two book series, Maplecroft and Chapelwood:
MAPLECROFT: Lizzie Borden took an axe and gave her mother forty whacks; and when she saw what she had done, she gave her father forty-one….

The people of Fall River, Massachusetts, fear me. Perhaps rightfully so. I remain a suspect in the brutal deaths of my father and his second wife despite the verdict of innocence at my trial. With our inheritance, my sister, Emma, and I have taken up residence in Maplecroft, a mansion near the sea and far from gossip and scrutiny.

But it is not far enough from the affliction that possessed my parents. Their characters, their very souls, were consumed from within by something that left malevolent entities in their place. It originates from the ocean's depths, plaguing the populace with tides of nightmares and madness.

This evil cannot hide from me. No matter what guise it assumes, I will be waiting for it. With an axe.
CHAPELWOOD: From Cherie Priest, the award-winning author of Maplecroft, comes a new tale of Lizzie Borden's continuing war against the cosmic horrors threatening humanity…

Birmingham, Alabama is infested with malevolence. Prejudice and hatred have consumed the minds and hearts of its populace. A murderer, unimaginatively named "Harry the Hacker" by the press, has been carving up citizens with a hatchet. And from the church known as Chapelwood, an unholy gospel is being spread by a sect that worships dark gods from beyond the heavens.

This darkness calls to Lizzie Borden. It is reminiscent of an evil she had dared hoped was extinguished. The parishioners of Chapelwood plan to sacrifice a young woman to summon beings never meant to share reality with humanity. An apocalypse will follow in their wake which will scorch the earth of all life.

Unless she stops it…
---
C.A. Verstraete's Lizzie Borden: Zombie Hunter:
One hot August morning in 1892, Lizzie Borden picked up an axe and murdered her father and stepmother. Newspapers claim she did it for the oldest of reasons: family conflicts, jealousy and greed. But what if her parents were already dead? What if Lizzie slaughtered them because they'd become zombies?

Thrust into a horrific world where the walking dead are part of a shocking conspiracy to infect not only Fall River, Massachusetts, but also the world beyond, Lizzie battles to protect her sister, Emma, and her hometown from nightmarish ghouls and the evil forces controlling them.
---
Walter Satterthwait's The Return of Miss Lizzie:
Lizzie Borden and Amanda Burton reunite to solve the case of a grisly murder among Jazz Age New York's elite in this riveting mystery from bestselling author Walter Satterthwait.

Sixteen-year-old Amanda is spending the summer with her suave and easygoing uncle John at the Dakota Apartments, opposite the green sprawl of New York's Central Park. When John isn't doing something mysterious with stocks and bonds, he and Amanda enjoy the very best the Roaring Twenties have to offer. However, in a single brutal night, everything changes. Suddenly, Amanda is alone, far from home, and fighting for her life in a city that has abandoned her.

Fortunately, there's one person Amanda can trust: Miss Lizzie Borden. Together, they'll manage to work out a twisted passage toward what might be survival through the narrow streets of nighttime New York.